Every year at the Conference on Complex Systems, we organise a panel to have a discussion about a specific topic relevant to early career researchers (and others!). We invite a handful of researchers from the community who are interested in and knowledgeable about our selected topic, and we animate a debate between themselves, but also, crucially, with the audience!
2023
The 2023 edition of our CCS panel in Salvador, Bahia, Brazil touched on the (sometimes elusive) creativity that is inherent to research. So if you've ever felt at a loss for ideas and wondered how you could nurture your own creativity, watch the panel discussion in our YouTube recording.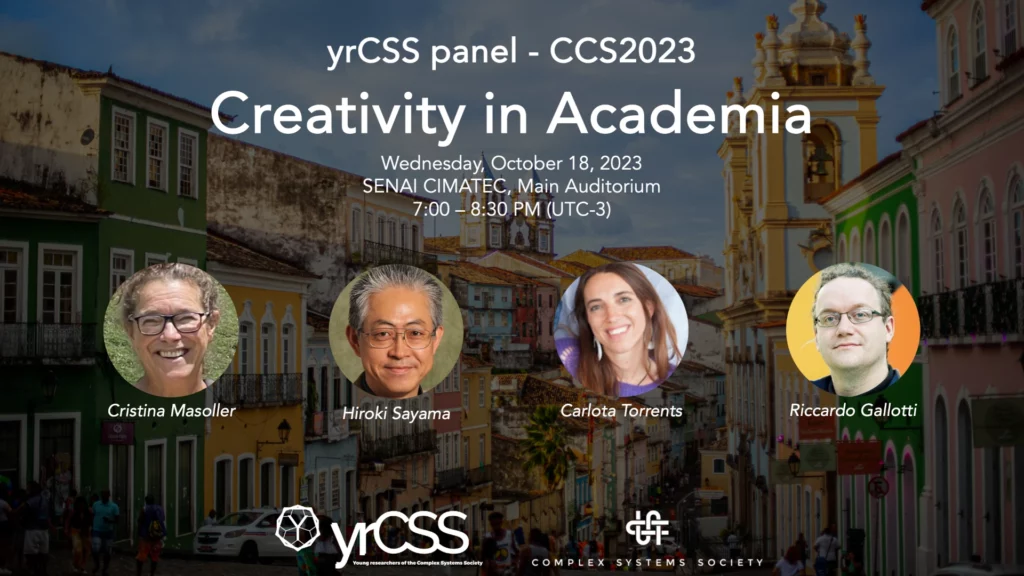 2022
The panel in CCS2022 panel in Palma de Mallorca, Spain regarded various challenges we face as young researchers, mostly related to mental health and precarity. Big thanks to our panellists Tobias Galla, Marta González, Elisa Omodei, Elsa Arcaute, Anxo Sánchez and José Fernando Mendez, who joined such a delicate discussion with the audience.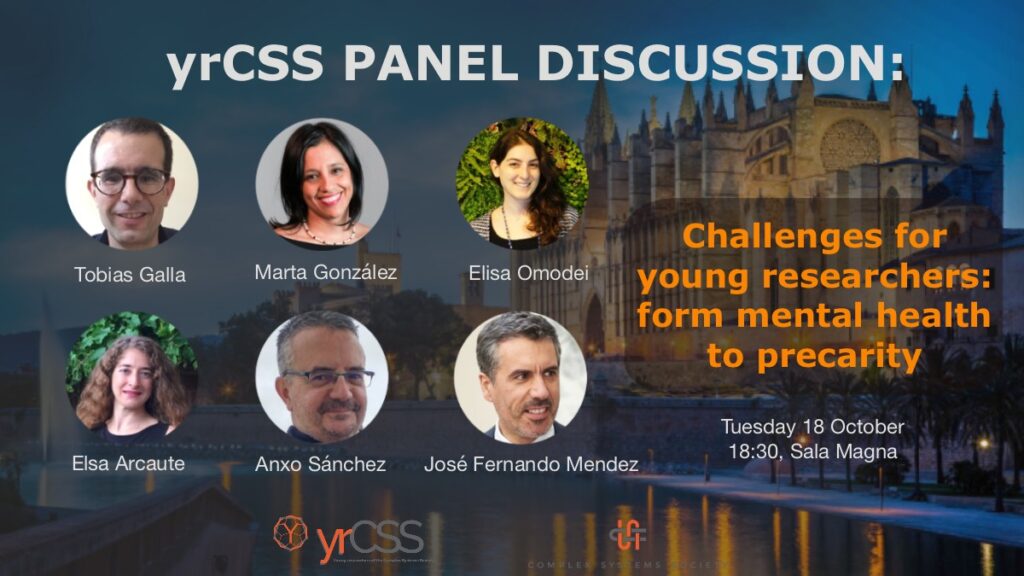 2019
In Singapore, the discussion revolved around the question: "How to talk about complexity to the general public?". To answer it, we were joined by Rika Preiser, Tiziana Di Matteo, Federico Levi, Maxi San Miguel, Cynthia Siew and Cheong Siew Ann.
2018
In Thessaloniki, Greece we had a debate with Rosario Mantegna, Guido Caldarelli, Ginestra Bianconi, Yamir Moreno, Alain Barrat, Maxi San Miguel, Elisa Omodei and Jose Fernando Mendez about the future of complexity science.
2017
To delve into the lesser known aspects of academic life, we had Marta Gonzalez, Elsa Arcaute, Yamir Moreno, Nicola Perra and Guido Caldarelli join us in Cancún, Mexico.
2016
Two controversial topics: "Publish or Perish" and "Academia vs Industry", were discussed in Amsterdam, Netherlands by our panellists Abigail Klopper, Doyne Farmer, Ana Isabel Barros, Chiara Poletto, Tina Eliassi-Rad and Yamir Moreno.
2013
During the YRNCS Satellite of ECCS'13 in Barcelona, Spain, we organised the panel series"Complexity tales: a guide for the young researcher".
How is it like to be a young researcher working on Complex Systems?
What are the possibilities opening ahead?
How would a young researcher make the choice on which field of Complex Systems to work on?
What are the decisions he/she has to take?
Is there a safe – easy route?
How can he/she become a successful researcher?
What is the advice senior researchers and professors would give to young researchers?
What are the main topics scientists on complex systems work on?
How are different scientific fields united to serve the science of complex systems?
These are a few of the many topics discussed during the panel sessions. Professors and researchers Prof. J. Johnson, Dr. D. Chavalarias, Dr. A. Barrat, Prof. C. Gershenson, Prof. Y. Moreno and Prof. A. Vespignani participated in the event and helped the young researchers understand not only what they work on but also how they reached the current stage of their career, what is the advice a young researcher should follow to step towards success.